Royal Mail and our Carriers are experiencing delays with some parcels due to both high demand and Covid absences. Your delivery may be slightly delayed but your order will ship from us as normal. We appreciate your understanding in these difficult times.
How to lubricate your chainsaw correctly
How to lubricate your chainsaw correctly
Firstly always check the chain Lubrication before starting work. Follow these important steps:-
Start the chainsaw.


Hold the saw over a stump and Rev up the engine.


The Chain Lubrication is working correctly if you can see a line of oil left over the stump.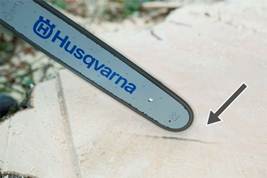 It is important to keep you chain oiling system filled with clean, good quality chain oil. Make sure that you fill the oil reservoir each time you fill the petrol tank.